29.10.20
Trio launches servo package to create plug-and-play motion solution
UK motion specialist, Trio Motion Technology, a member of the Estun Group, has expanded on its motion controller range with the launch of a servo drive and motor package. OEMs can now benefit from Trio's specialist motion control performance with a complete plug-and-play solution, enabling faster machine development and optimum cost effectiveness.
The launch of the new DX4 servo drive and MX servo motor series expands Trio's machine solution and now makes it faster and easier for OEMs to utilise the high performance motion control available from Trio's range of Motion Coordinators. The DX4 servo drive has plug-and-play compatibility with Trio's controllers and slice I/O systems, all programmed within a single software, Motion Perfect 5. This increases the speed of application development and commissioning for OEMs in industries including packaging, medical, metal, CNC, robotics and 3C. The DX4 servo drive operates at 200V AC and power extends from 50W to 3kW.
Trio's specialisation in high performance motion control enables machine builders to achieve optimum productivity. Utilising high speed EtherCAT communications, the Motion Coordinator range can control up to 128 axes with precision accuracy. Developed over more than 30 years of motion control expertise, Trio's Motion-iX technology core encapsulates a motion-first approach, capable of complex kinematics within a powerful application programming interface (API). Trio's open communications mean that the performance of its controllers can connect to factory automation across the primary Ethernet-based protocols.
The new DX4 servo drive extends high control performance to the motor shaft, achieving fast and accurate positioning with the matched MXL low inertia and MXM medium inertia servo motors. The drive features EtherCAT update rates down to 125μs and 350% overload for high dynamic applications, as well as functional safety dual STO (SIL3, PLe). The motors host 23-bit absolute multi-turn capability for increased positioning accuracy.
High performance motion control as well as servo drive and motor precision are rapidly achieved through the Motion Perfect 5 software. Plug-and-play functionality instantly identifies the drive and motor for easy configuration, and accurate motor performance is quickly achieved using tools including adaptive autotuning and anti-resonance features.
For motion programming, Motion Perfect 5 flexibly supports IEC 61131-3 languages and PLCopen to enable development to suit all programming backgrounds. The Windows-based software includes an oscilloscope for up to 32 channels as well as a digital twin visualisation tool. The 3D offline simulation speeds up development by validating motion control before it is physically deployed. This technology is particularly useful for complex control such as robotics, and Motion Perfect 5 can be used to program robots with up to six axes.
The new DX4 servo drive is highly compact. It has amongst the lowest footprint available across each of its three versions, which span 50W – 400W, 750W – 1.5kW and 2kW – 3kW. With a slim frontal area and zero stacking gap, space saving advantages are further emphasised for higher axis counts. Reduced dimensions are also achieved by retaining additional control functionality within the Motion Coordinator and I/O slices, instead of including it within a more sizeable, complex drive. Compact footprint is an established benefit of Trio's Motion Coordinator range, for example the Flex-6 Nano, which controls up to 64 axes, is literally pocket-sized.
Trio's motion control solution is also scalable and additional functionality can be quickly added when required. Flexslice I/O modules covering a broad range of control functionality are easily clicked into place and programmed through Motion Perfect 5.
Scalable functionality has also been designed for cost effectiveness and the OEM only pays for the capabilities they need, according to Trio's design principle of 'everything you need and nothing more'. As a result, the DX4 servo drive doesn't require additional functionality onboard which significantly reduces cost and even greater savings are evident as axis count increases. The Motion Perfect 5 software is available free of charge and the competitively priced Motion Coordinators mean that Trio offers the lowest cost-per-axis motion control at 64 axes.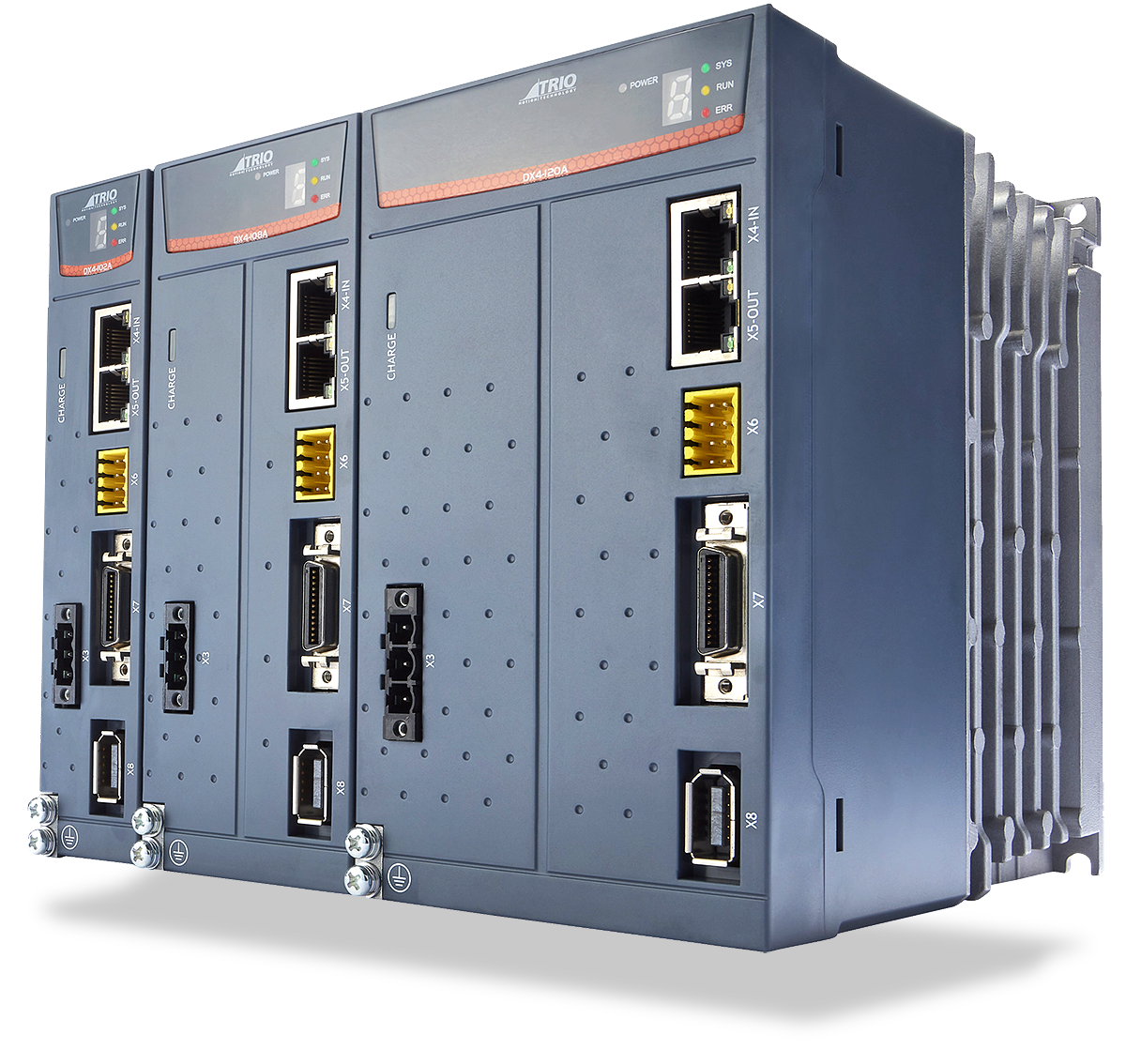 DX4 Servo drives
ENDS