28.04.24
Installing a robotic pick-and-place and integrated conveyor solution has increased productivity for a pharmaceutical manufacturer while achieving regulatory compliance. Combined with a vision system optimised for accuracy assures end-to-end traceability, while a single controller manages both the robot and conveyor axes, increasing reliability for the end user.
The final steps in the packaging operation of a pharmaceutical manufacturer includes cartoning, stacking, and palletising. With the need to increase productivity while maintaining hygiene and strict pharmaceutical sector compliance, this process can be optimised with a conveyor and robot as part of a pick-and-place application.
The advantage of a robotic pick-and-place application is that by reducing reliance on human labour, they can enhance efficiency. Crucially for the pharmaceutical sector, as well as other sectors that demand hygiene such as food & beverage industries, minimising human intervention also reduces the risk of contamination, especially in a cleanroom environment. An automated, robotic system also prevents human error and can be used to ensure end-to-end traceability.
Vision inspection is fundamental to optimise accuracy as part of a traceable packaging process, with systems including checkweigher, track & trace, and print & apply solutions. Specialising in this field, Shubham Automation has partnered with motion specialist Trio Motion Technology, an Estun Automation brand, that provides control automation, including robotics. Together, this partnership has provided end-of-line solutions for a range of pharmaceutical manufacturers.
"Pick-and-place robots have gained popularity due to their adaptability and excellent return on investment. User convenience is a fundamental factor in the success of any product, solution, or technology. The pharmaceutical industry has embraced robotics due to the fact that it makes its production process more effective and streamlined," says Prashant Patel, Managing Director of Shubham Automation.
To achieve this functionality, REE's four-corner demonstrator includes a control system developed by Sherf using Trio's controllers, servos, and the Motion-iX engineering design platform. Steering is coordinated by a Trio Flex-6 Nano Motion Coordinator. Providing independent steering of each wheel, the Trio Flex-6 Nano coordinates all 15 axes. Independent control is provided for steering angle and camber, as well as for shock absorber suspension simulation. Each wheel includes three Trio DX4 servo drives and Trio MX servo motors. The motion calculation formulae are based on Ackermann's theory and help maintain optimum traction and steering geometry in motion.
The application challenge
"One of our well-known pharmaceutical clients needed to transfer packaged bottles from a conveyor into cartons that would then be stacked and made ready for shipping. The company was handling the process manually, but we could offer them a comprehensive, accurate, and precise solution with Trio Motion Technology," says Prashant.
The pharmaceutical manufacturer needed to increase the speed and efficiency of the packaging process while maintaining critical standards in hygiene and traceability. This was achieved with the integration of a robot provided by Trio.
The 6-axis robot achieves pick and place throughput of 60 bottles per minute. The easy to use system also gives the pharma manufacturer flexibility over packaging options, and the machine enables packaging in a matrix of 4×2, 5×2, 6×5, and 6×6 at the robot in-feed.
The machine includes two additional axes, the first responsible for controlling the infeed of bottles into the line, and the second managing the outfeed of the conveyor. A key benefit of the Trio system is that a single controller manages both robot and conveyor axes. This not only reduces the development time required to establish handshaking between the two controllers, but it also provides greater reliability in the field for the pharmaceutical manufacturer, minimising the potential of downtime.
Implementing the motion solution
"A single controller controls the in-feed, out-feed, and robotic systems. Typically, these systems require multiple controllers and HMIs for the robot and machine, making the system complex and expensive," says Chirag Bhatt, Application Manager at Trio Motion Technology. "Using our technology, Shubham was able to provide a complete, accurate, and precise solution. With this completely integrated design, Shubham could increase efficiency and output for the pharmaceutical manufacturer, while helping to decrease their total cost of ownership."
Trio's robot motion and conveyor coordination is based on high speed EtherCAT communications for real-time motion control. Meanwhile, Trio's Motion Perfect application development software enables programming via Trio's motion-centric, easy to use multitasking programming language, as well as industry standard IEC 61131-3 languages. Applications can also be developed and performed on Windows using a shared memory API to interface with Trio's sophisticated Motion-iX motion core, allowing maximum application development flexibility.
Optimised efficiency and pharma sector complianc
"Our latest end-of-line automation (EOLA) provides a complete solution to expedite and streamline the entire packaging process for our customer," says Prashant. "Our smart track & trace technology solution tracks products across the entire supply chain. The packaging solution offers zero human intervention and is fully compliant with 21CFR Part 11."
Providing they are correctly deployed to ensure seamless coordination with the host machine, robotics can increase the productivity and efficiency of a packaging system. "Integrating robot, motion, and machine automation into a single controller allows system integrators and OEMs to design and commission machines more quickly and easily," says Chirag. "A single controller means less downtime for the end user, which ultimately increases machine productivity. As a result, deploying a single controller to manage the robot, motion, and machine axes, results in a cost-effective, high performance solution."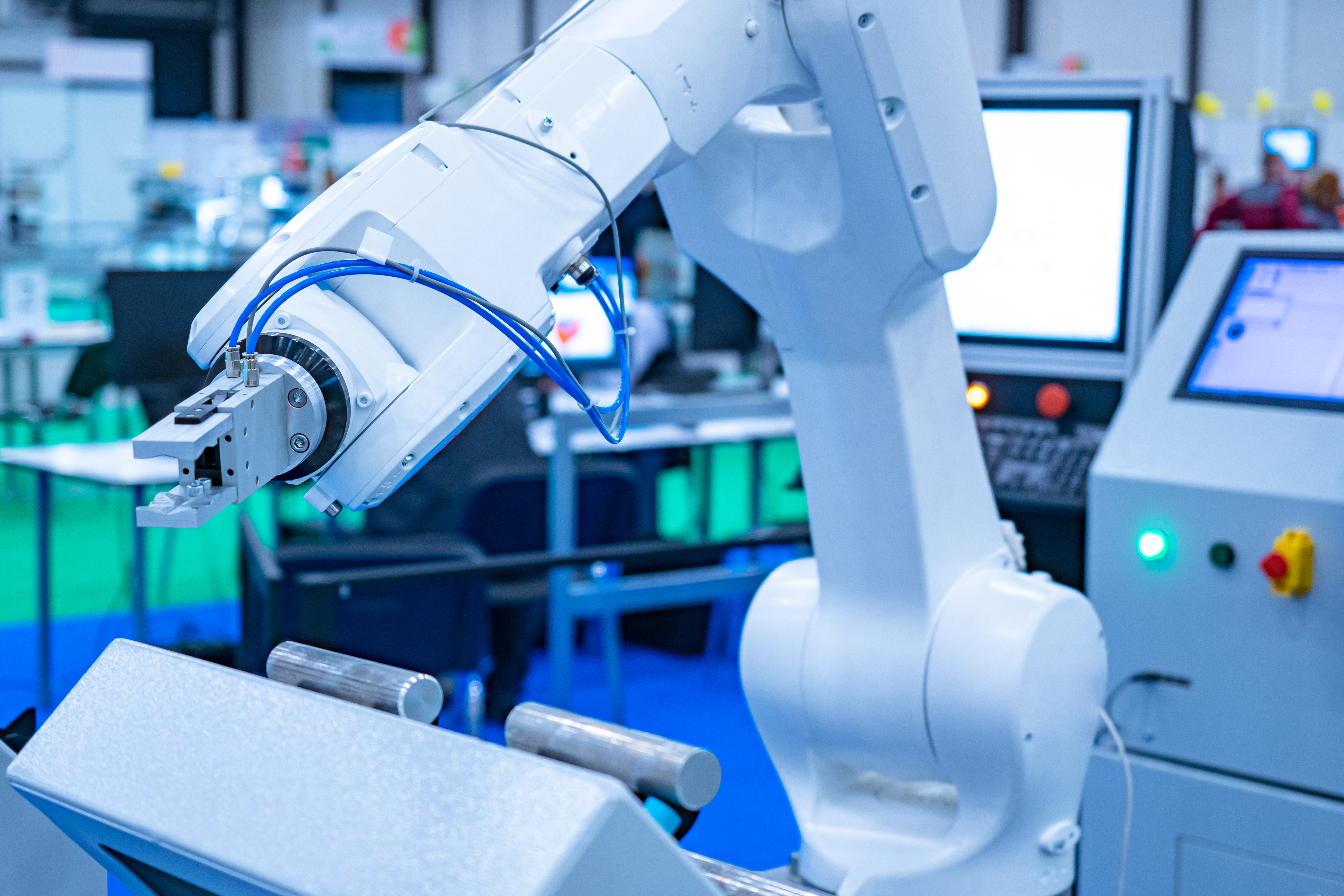 SCARA-End of line process
ENDS