25-03-21
Micromech to lead Trio Motion Control's UK expansion plan
Motion control and systems build integrator, Micromech, has become the UK Solutions Partner for Trio Motion Technology, the motion-based manufacturer of machine control systems. Micromech, one of the country's most experienced motion system integrators, will develop solutions for OEMs and machine builders using Trio's range of motion controllers, I/O, servo drives and servo motors.
The announcement follows Trio's October 2020 launch of its full OEM machine solution, adding servo drives and motors to its longstanding range of motion controllers and I/O. Trio has an established presence in North America, India, China and Asia, and partnership with Micromech is a commitment to grow and support OEMs in the home market.
Developing systems for OEMs and machine builders with precision motion control requirements, Micromech has primarily focused on solutions for the medical, life sciences, packaging, and food processing sectors. Established in 1982, Micromech provides UK-wide systems development and support with a team of 22, mainly featuring development and application engineers.
The systems build integrator has partnered with Trio since the 1990s as its preferred supplier of controllers as a result of Trio's high precision in motion control. As Trio now provides a full machine solution, additional benefits include assured compatibility and ease of integration that will improve time to market as well as providing a cost-competitive package.
From panel building and full system design, Micromech now supports machine builders and OEMs with Trio's full product range that includes up to 128 axis control and, later this year, a range of SCARA robots. Micromech adds value by writing software for OEMs and spending time with their customers' engineers to optimise machines from outset. Post installation, Micromech provides engineering support remotely and on-site.
"Other controllers can't do what Trio's controller can: this is why we've stayed with them. Now Trio has a servo drive and motor, it provides the full package," says Micromech Managing Director, Mark Hall.
"Trio has always been our controller of choice and as a result, our engineers have a great deal of experience with them for programming and commissioning. As Trio's controllers can handle both servo and stepper motors, they're also very versatile. We have a strong growth plan for this year and Trio is an integral part of that," says Mark.
"With significant in-house expertise in motion, drives and motors, and over 30 years' system build experience, we're very happy to confirm Micromech as our UK Solutions Partner," adds Mark MacDonell, UK & Ireland National Sales Manager, Trio.
"As Trio's home market, the UK is extremely important for us. With Micromech, we will provide OEMs with the motion control capability to increase the productivity and performance of their machines."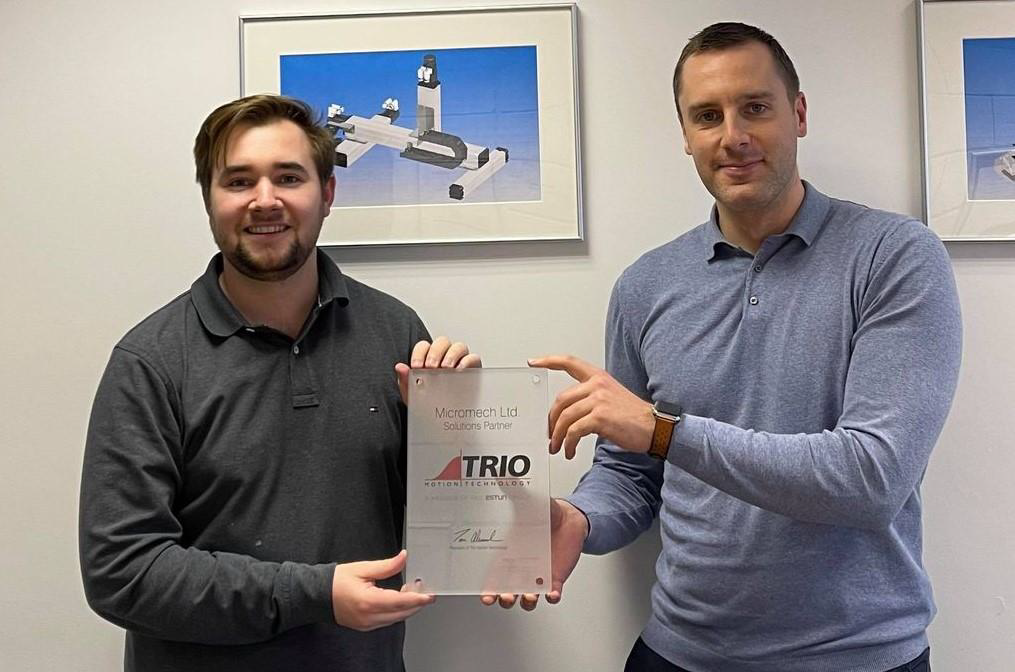 Roy Bamforth
ENDS