21.06.21
Pocket-sized motion controller for up to 64 axes
Trio Motion Technology's highly compact Flex-6 Nano EtherCAT controller coordinates the motion of up to 64 axes with EtherCAT cycle time down to 125μs. This performance increases the speed and productivity of machines in a pocket-sized format, enabling easy integration and smaller machine design. Click-in I/O modules extend control capability and the Flex-6 Nano also coordinates stepper drives and analogue devices.
Trio has developed its first servo drive & electric motors, the devices which connect a machine or robot control system to its moving parts. The launch means that the company will now directly supply machine and robot manufacturers around the world with a complete automation control package.
Precise coordination of multiple analogue and step & direction drives is also achieved at the EtherCAT cycle rate. This provides cost flexibility, meaning that machine builders don't need to upgrade drives or lower-cost analogue or stepper motors but can still achieve the same EtherCAT performance levels. This is a result of EBUS technology that synchronises all sub-modules on the EtherCAT network without degradation in performance.
The pocket-sized controller measures just 147mm in height, 107mm deep with a width of only 17mm, dimensions that are significantly smaller than controllers with comparative motion performance. This small size allows Flex-6 Nano to easily replace other controllers and enables a more compact footprint for new machines or panel design.
Flex-6 Nano's functionality is scalable through its click-together Flexslice I/O modules, allowing scalability up to 32 analogue inputs and 16 analogue outputs, as well as 1024 digital I/O points. This extended capability enables integration of digital and analogue devices as well as functionality such as thermocouple temperature measurement. Trio's approach reduces footprint and cost compared to a typical PLC, and Flex-6 Nano also features an Ethernet port for communication integration with common fieldbuses and factory networks.
Applications development and programming from Trio's Motion-iX software environment includes IEC 61131-3 languages, PLCopen, plus Trio's Motion-iX core programming option. Trio's Motion-iX is fast and simple to develop complex motion, using native English language commands such as 'SPEED' to set speed, combined with traditional programming commands such as 'IF' or 'THEN'. Complex motion commands are also used, such as such as 'FLEXLINK', which synchronises a servo motor to another axis with a variable, position-locked ratio. Top to bottom sequencing also makes programming easier to create and review compared to languages such as ladder that follow a cascading format.
Within days, it's possible to program and commission relatively sophisticated motion programs using the Trio system without the need for specialised training. Trio's controllers can also be programmed from a PC using the PC language of choice, such as C or LabVIEW. This enables PC-based control, as well as interaction from a PC application or HMI.
Servo drive and motor commissioning is fast and reliable as Trio controllers are designed with plug-and-play compatibility using Trio's DX4 servo drive and MX series motors. The controller, drives and motors are commissioned within a single software, Trio's Motion Perfect 5.
For flexibility, OEMs and system integrators can also use third-party drives and motors with Flex-6 Nano. The controller has an extensive database of third-party devices, meaning fast and simple set-up with only click-and-select configuration.
Motion Perfect 5 software is available free of charge with no licencing costs. In addition to providing stepper control, the compact Flex-6 Nano achieves a competitive price and, combined with the DX4 drives and MX series motors, it provides the lowest cost-per-axis up to 64 axes.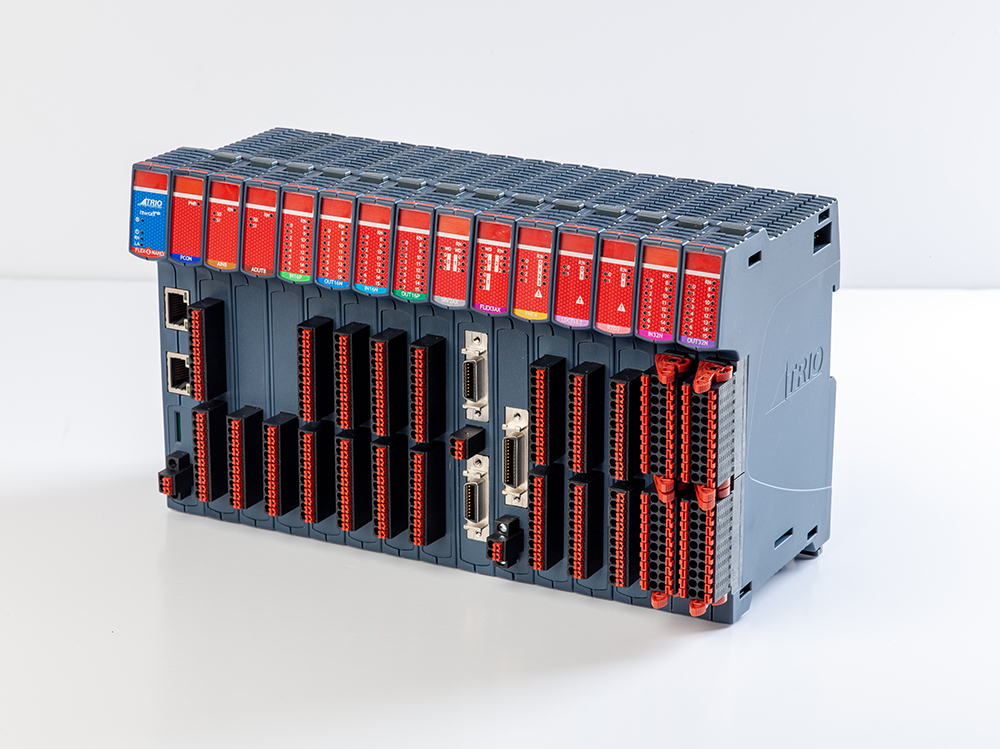 Flex-6 Nano is a machine control solution thanks to its I/O modules
ENDS