15.07.21
Trio appoints Intelligent Automation Systems as stockist of motion controller and servo package
UK motion control manufacturer, Trio Motion Technology, has appointed Intelligent Automation Systems as UK stockist. Intelligent Automation Systems becomes the UK's largest stockist of Trio's DX4 servo drive & motor package, which directly integrates with Trio's motion controllers. Intelligent Automation Systems will also provide OEMs with Trio's range of motion controllers and I/O.
Trio's renewed focus on its UK distribution partners will increase the application support it provides to UK OEM customers. The move is part of Trio's expansion following last year's launch of its first servo drive and motor range, the DX4. The experienced UK motion controller manufacturer now provides a fully integrated motion-centric machine solution. Trio will continue to support wider UK system integrators with its range of motion control products.
Trio selected Intelligent Automation Systems as UK stockist based on the company's expertise in motion application development. Set up in 2009, Intelligent Automation Systems has distributed Trio's motion controllers from outset and develops machine control solutions for OEMs, as well as bespoke applications. Able to support projects up to 35 kW, Intelligent Automation Systems specialises in projects ranging from 100 W to 1 kW. The company develops new motion-centric machine solutions, as well as upgrading existing machines to the next generation.
"For customers, the new arrangement means we can now offer OEMs with a complete, one-stop machine control solution including an integrated motion controller and servo package that will reliably communicate together. Ultimately, this will significantly reduce machine downtime," says Ajay Karavadra, Managing Director, Intelligent Automation Systems.
"Trio's main advantage lies in its motion controller," adds Ajay. "It's motion control performance, in terms of speed and accuracy in complex interpolation across multiple axes, means high quality production from high productivity machines. It's a cost-effective solution with free software, no licencing costs, and very competitive servo drives and motors."
"Intelligent Automation Systems has a great deal of experience developing motion applications. Holding a significant amount of stock helps win and keep new business," says Mark MacDonell, UK & Ireland National Sales Manager, Trio.
"The UK home market is very important to Trio and concentrating our support on Intelligent Automation Systems will mean improved development capability for the UK's OEMs," adds Mark.
Servo drive and motor commissioning is fast and reliable as Trio controllers are designed with plug-and-play compatibility using Trio's DX4 servo drive and MX series motors. The controller, drives and motors are commissioned within a single software, Trio's Motion Perfect 5.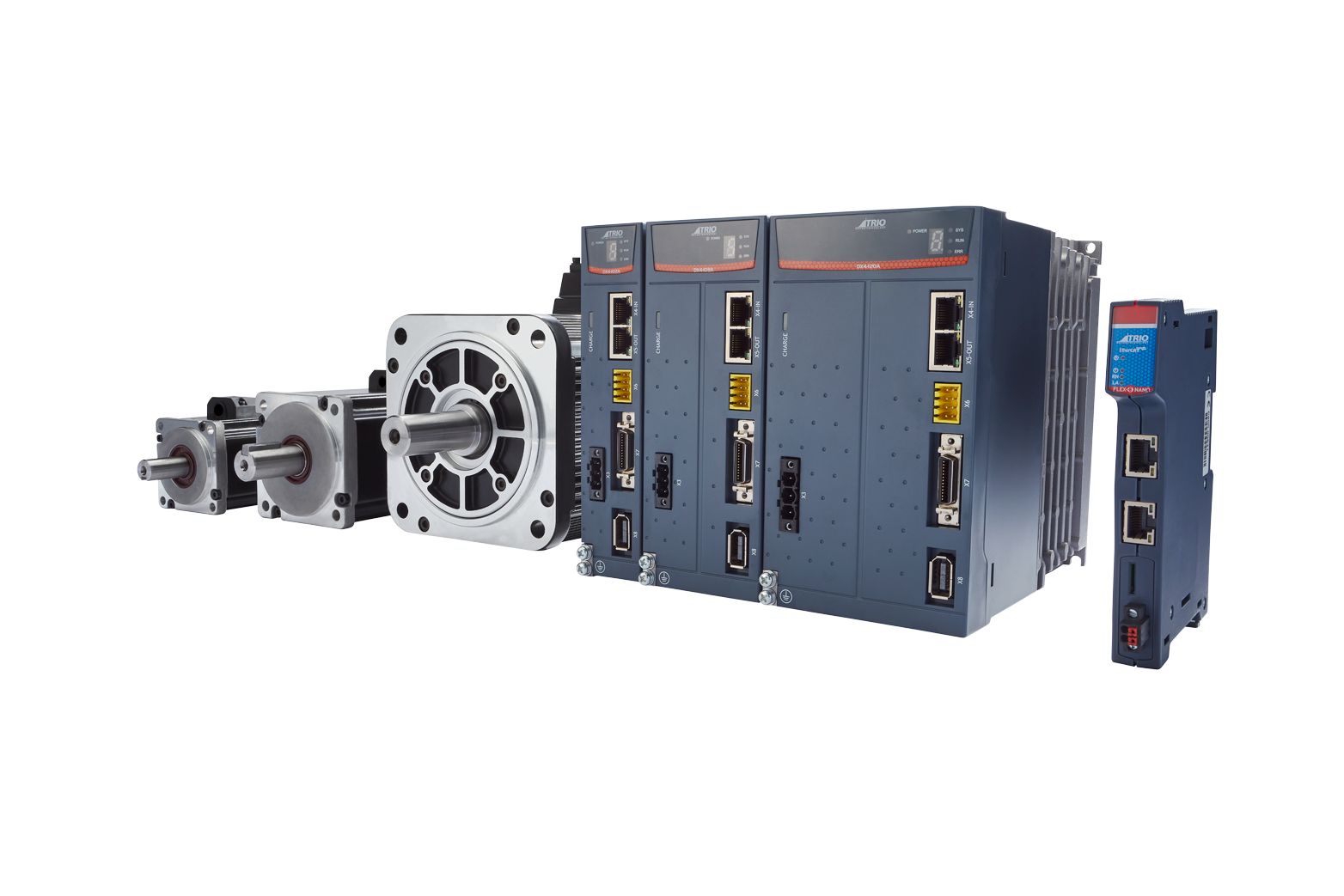 Intelligent Automation Systems now stocks Trio's servo motor and drive package, as well as controllers including the pocket-sized Flex-6 Nano (right).
ENDS