07.02.22
Low cost, high performance from the MC404-Z
Trio Motion Technology has launched a controller for stepper or pulse and direction servo drives with high performance motion control across four axes. The MC404-Z is primarily aimed at OEMs that need fast and accurate motion performance as well as a cost-optimal machine build. The all-in-one controller enables I/O extension through CANbus and can also integrate directly with common PLC and HMI protocols via a built-in Ethernet port.
The controller achieves performance motion required for applications such as cutting machines, including laser, plasma and water jet, as well as glue laying and gantry control. The controller provides linear, circular, helical and spherical interpolation and can achieve flexible CAM shapes and linked motion. MC404-Z also features robotic motion control with integrated kinematics for a variety of applications. Program parameters and applications can also be quickly added thanks to the onboard Micro SD card slot.
High speed and accurate control of pulse and direction axes use advanced acceleration profiles with jerk limitation up to ninth order polynomials for fast and smooth motion. Axes have a maximum stepper output frequency of 2 MHz and a range of servo periods from 4,000 down to 125 µs. The MC404-Z's motion control performance is achieved with precise 64 bit motion calculations on an Arm Cortex-M7 processor, the highest performance member of Arm's energy efficient Cortex-M processor family.
The controller also includes a master encoder on the fourth axis port that can be set up as incremental, Biss, EnDAT and SSI absolute. The master encoder axis can also be used for applications including lineshaft following on a flow wrapper machine with a form, fill and seal process, or as an axis control handwheel on a CNC machine.
MC404-Z can operate as a standalone all-in-one controller thanks to its onboard I/O. Providing performance motion control and machine automation, MC404-Z presents a significant cost saving compared to using a PLC or IPC. The controller features 16 digital inputs and 8 digital outputs, as well as two registration inputs with a speed of 1 µs, plus an analogue input. If additional I/O extension is required, Trio's CAN I/O that runs on the reliable CANbus protocol, extends digital, analogue and relay integration, with input, output and bi-directional modules. Third-party CanOpen I/O can also be integrated.
Communications integration with the primary Ethernet-based fieldbuses is also included. MC404-Z's Ethernet port enables connection to an HMI or PC running a bespoke customer application, such as a CNC program, as well as connection to a third-party PLC.
Programming the MC404-Z is fast and straightforward thanks to the option of using IEC 61131-3 languages, PLCopen, or Trio's Motion-iX. Trio's Motion-iX uses English language commands, meaning that dedicated motion programming is fast and intuitive to learn, saving significant time long-term compared to logic-based languages.
The MC404-Z is fast to set-up, with a single cable and connector per axis. Trouble-free commissioning takes place via Trio's familiar Windows-based MotionPerfect PC commissioning tool.
"The productivity and efficiency of applications such as pick and place are enhanced by SCARA robots, so extending Trio's automation portfolio with a range of high performance integrated robots is advantageous to OEMs that build machines for a range of industries," says Tom Alexander, President, Trio Motion Technology.
In addition to the four axis MC404-Z, Trio's own range of conventional controllers for stepper or pulse and direction as well as analogue servo drives also includes the MC403 three axis controller, the MC405 five axis controller, and the MC408 eight axis controller.
Trio also manufactures a range of high speed EtherCAT-based controllers including the pocket-sized Flex-6 Nano that can control up to 64 axes, as well as the MC664-X that can control up to 128 axes.
"The MC404-Z is designed for machine builders that need to keep costs low by using stepper motors, or pulse and direction servo motors, but who also need high performance motion control," says Trio's President, Tom Alexander. "For smaller, lower power machines, the MC404-Z can be used as a standalone machine controller, saving significant cost compared to integrating an additional third-party PLC into the machine's design."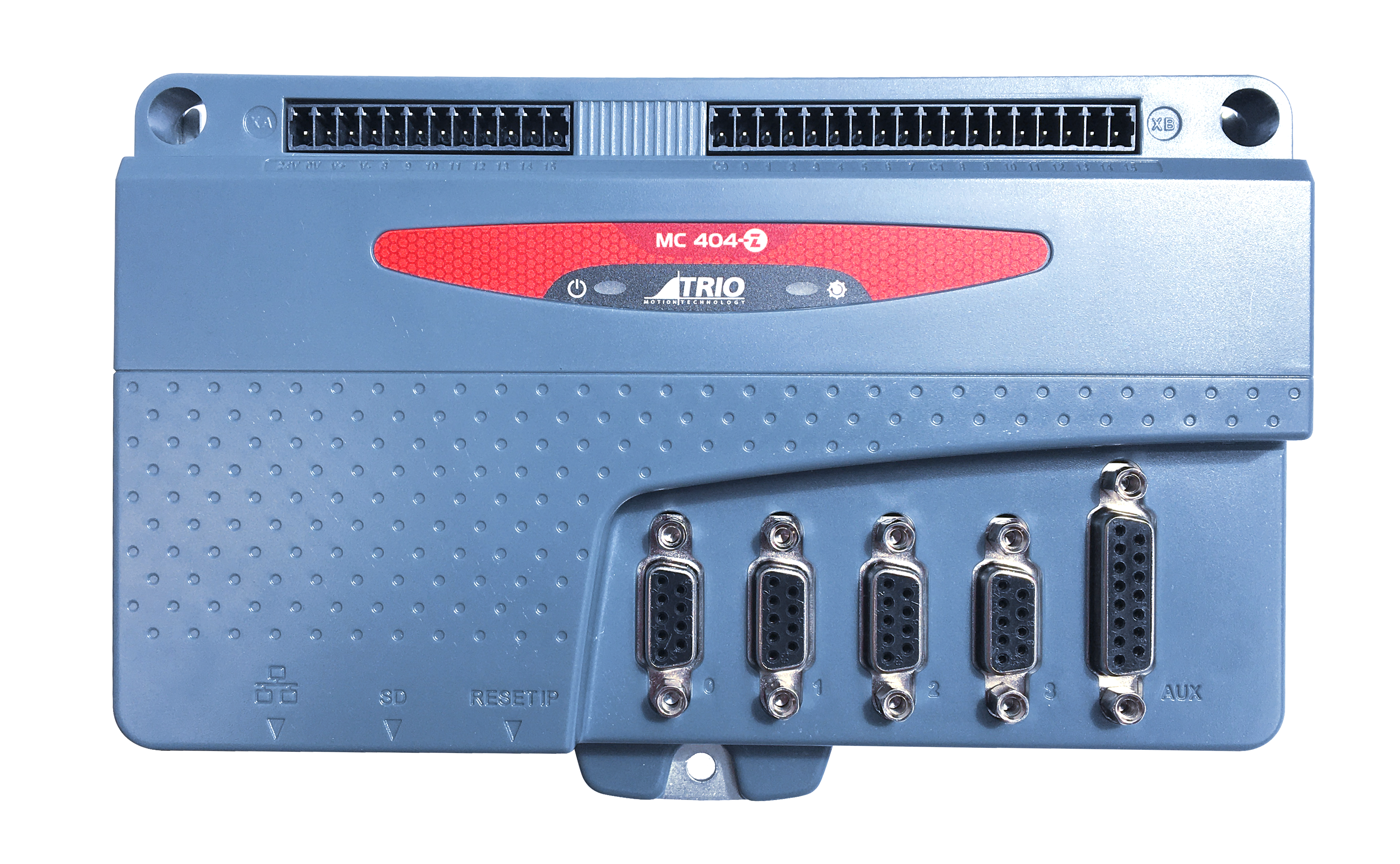 Trio's MC404-Z offers high performance control for stepper motors.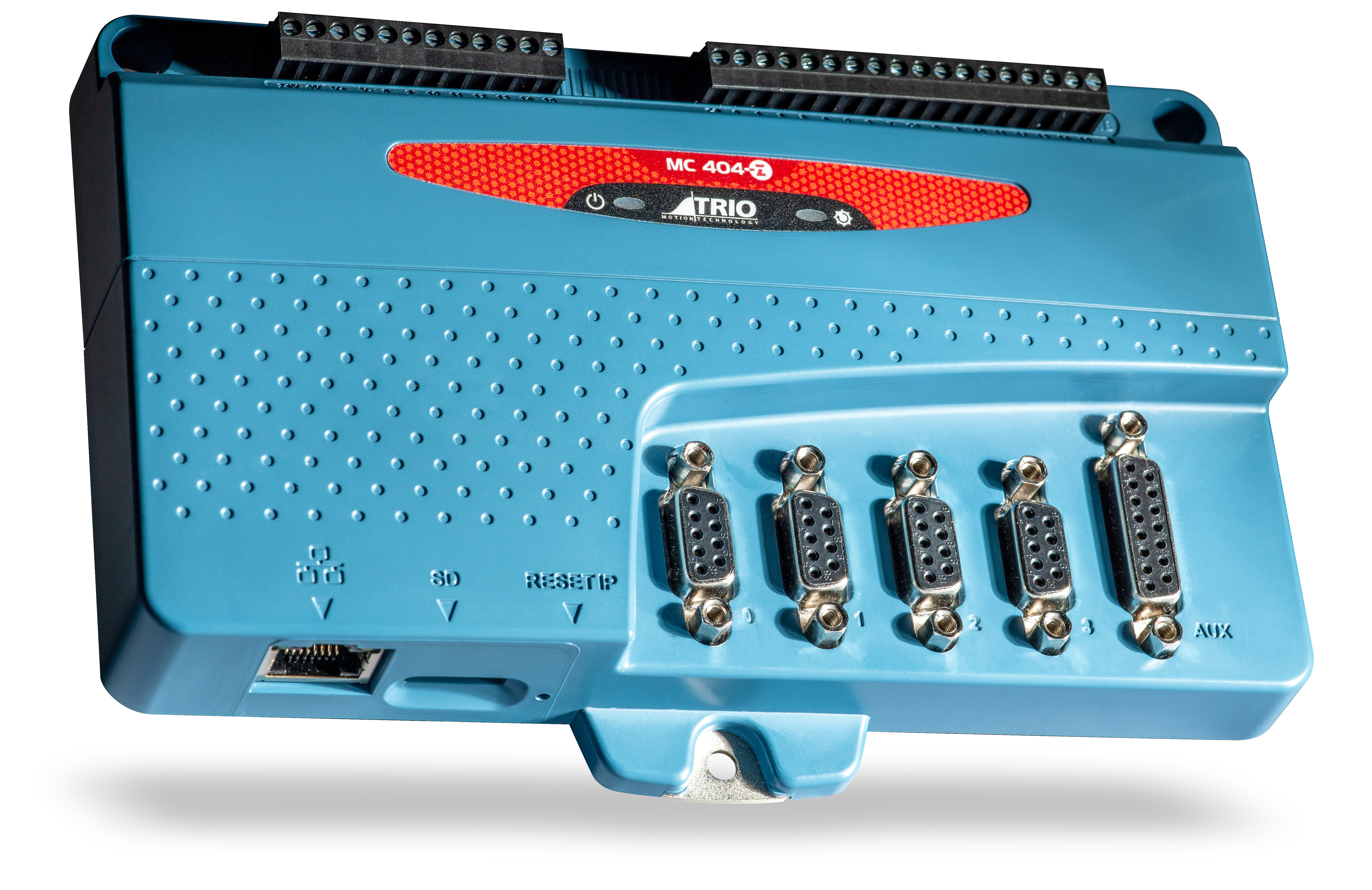 Trio's MC404-Z offers high performance control for stepper motors. 
ENDS