15.11.21
New SCARA robot range provides OEMs with integrated control solution for robot, motion and machine automation
The motion-first automation control manufacturer, Trio Motion Technology, has launched a robot range that provides machine builders with a fully integrated control solution. The launch gives OEMs high performance robot control, motion control, and machine automation from a single controller. Trio's new robot range will speed up development time and increase reliability for machine applications that require robotic integration.
The launch will also give access to robots for users with limited robotics experience by providing easy to use application tools within a familiar automation development framework.
Trio's new SCARA (Selective Compliance Assembly Robot Arm) robot range has been designed to optimise productivity and control for applications including pick and place, assembly and dispensing. This makes the range highly suited to industries including electronics manufacturing (3C), packaging and material handling. The range comprises four SCARA robots that extend from a 400mm arm range and a 3kg maximum load capacity, through to a 700mm arm range and a 6kg maximum load capacity.
The robots achieve high cyclic throughput and precision with high repeatability, making them ideal for assembly. Each robot is powered by four Trio MX series servo motors that are individually controlled by a Trio DX4 servo drive. The drives provide fast, precise motion performance enhanced by EtherCAT update rates as low as 125us. DX4 can deliver 350% overload for high dynamic applications as well as absolut
e multiturn 23bit encoders for system precision. As a result of the design simplicity of the drives with the majority of control and I/O functionality retained within the separate controller, this approach significantly reduces the lifetime cost of the robot.
The new robots are controlled by a Trio motion coordinator that can simultaneously control the overall machine, instead of a separate controller for machine and robot. Integrating robotics within the same controller removes the challenge of hand-shaking and communication compatibility between a robot controller and PLC. This speeds up development time and reduces process issues in the application, meaning fewer resources required by the OEM and greater productivity for the end user. A single controller also reduces overall machine cost in terms of hardware as well as footprint, while simplifying commissioning and future production process changes.
While the robot launch extends Trio's automation solution, the brand's controllers have provided kinematic control of third-party robots since the late '90s and six-axis robot control was introduced in 2016. The kinematic and motion control capabilities of Trio's motion coordinators are based on high speed synchronisation of up to 128 axes with up to 64 bit precise motion calculations. Trio's flagship MC664-X can control up to four SCARA robots simultaneously while the pocket-sized Flex-6 Nano can control two SCARAs.
Robot application development takes place within Trio's Motion Perfect software and is powered by a core of Motion-iX technologies, providing a single control platform for machine, motion and robotics. The single platform approach reduces development time and eliminates risk in compatibility issues. Simplicity of robot development is enhanced through Trio RPS (Robot Programming System), an integrated software package that includes 3D simulation to create a virtual twin that reduces risks in deployment, which speeds up development. RPS also includes a Virtual Teach Pendant for faster, on-the-go robot program development.
As well as robotic and motion control, Trio's controllers also provide machine automation. The controllers feature extensive I/O integration, system expansion via EtherCAT and compatibility with all primary Ethernet-based bus systems. They can also be programmed using IEC 61131-3 languages.
"The productivity and efficiency of applications such as pick and place are enhanced by SCARA robots, so extending Trio's automation portfolio with a range of high performance integrated robots is advantageous to OEMs that build machines for a range of industries," says Tom Alexander, President, Trio Motion Technology.
"Integrating robot, motion and machine automation into a single controller enables faster development for the OEM," adds Tom. "Crucially, it means reduced field downtime for their customers, giving machine users increased productivity. Minimising development and maintenance challenges, combined with using just one controller for all tasks, also means a lower cost machine."
Stock, application development and field support of Trio's SCARA robot range are available across the brand's global regions including North America, the UK & Europe, India, China and Asia.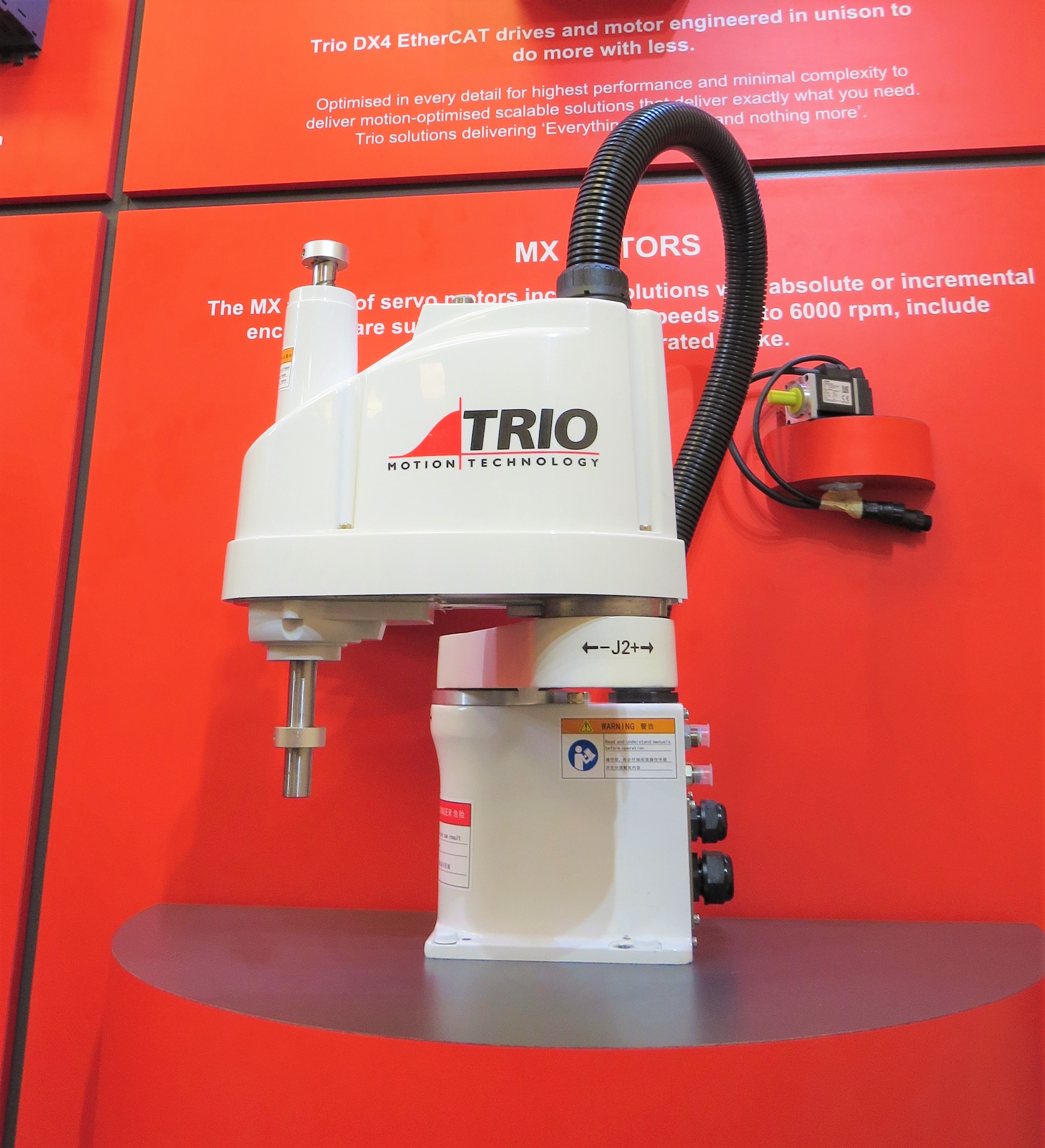 Trio's new range of SCARA robots provide OEMs with an integrated robot, motion and machine automation capability.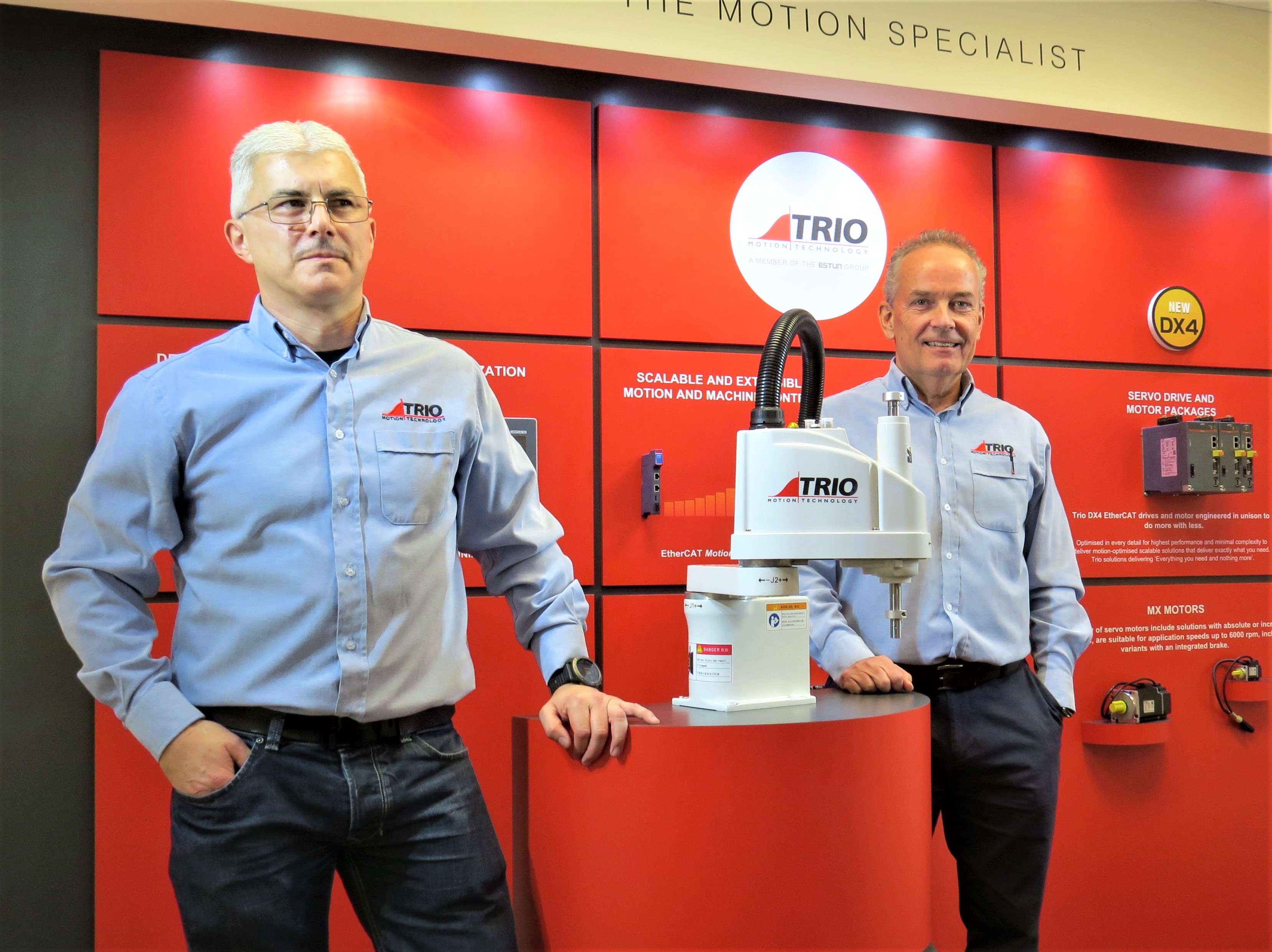 Trio's head of product management, Dave Greensmith (left), with Trio's President, Tom Alexander, at the SCARA robot launch
ENDS